---
The 13 Best Luxury Boutique Hotels In Dublin City Centre
---
So, you're coming to Dublin soon and need a place to stay. Well, you've come to the right place.
Dublin is exploding with gorgeous accommodation options, from stunning boutique hotels with vintage finishes to trendy properties with all the exclusive modern amenities you can think of. Deciding where to stay in the Irish capital can be challenging, with so many incredible options.
To give you a helping hand, we've put together our list of the best luxury boutique hotels in Dublin that guarantee you a night away in style.
This webpage contains some links that may be affiliate links. If you make a purchase through one of these links, we may earn a commission at no added cost to you.
---
Where To Stay In Dublin
Before deciding what hip hotel in Dublin you want to book, you should get yourself up to scratch with the neighbourhoods so you know more about your surroundings. The last thing you want is to take a taxi halfway across the city for a meal.
Temple Bar is a popular choice among those who have never been to Dublin before. It's pretty central, and next to everywhere tourists want to be, so naturally, many people will choose to base themselves there. The downside to staying in Temple Bar is that the hotels' prices are usually quite high, so you should expect to pay a fair bit if you want to stay there.
Young travellers tend to gravitate towards districts like Smithfield and Ranelagh, as it gives them a convenient base for immersing themselves in the city's nightlife scene.
The Quays is typically the area someone will stay in if they're in Dublin for a quick trip. It's not as busy as other districts and provides easy access if you need to get to the airport early in the morning for a flight.
To be honest, all the boutique hotels we have mentioned in this list are within touching distance of the main tourist areas, so you shouldn't worry about location too much.
---
13 Of The Top Boutique Hotels In Dublin City Centre
---
Number 31
Location – Leeson Close
Best For – Couples
Price Range – €€
Set in a quintessential Georgian house with typical 19th-century architectural designs, the Number 31 is one of the best hotels in Dublin city centre for couples. Showcasing the Bohemian soul, the city was known for back in the day, a night here will place you in a quiet pocket of the capital; however, you'll be within walking distance of lovely parks like Iveagh Gardens and acclaimed coffeehouses like the Brew Town Roastery/Cafe.
Unlike most of the boutique accommodation options on this list, Number 31 offers all guests a complimentary breakfast every morning, and wow, is it good? From the fresh bowls of muesli to the delightful eggs benedict with a side of mushrooms, you'll be spoiled for choice.
Number 31 only has 21 rooms creating a more intimate atmosphere compared to its competitors. They all come with sizable double beds, soft bed pillows and sheets, VOYA Irish organic seaweed toiletries, Dyson cooling fans, storage safes, tea and coffee makers, and many more surprises.
---
The Alex
Photo Provided By Agoda
Location – Fenian Street
Price Range – €€€
Best For – Two-person trip
The Alex is one of Dublin's most well-known design hotels situated on Fenian Street, a property you'll never want to leave once you step foot in. Providing guests with an unmatched location within walking distance of a plethora of boujee bars, including The Ginger Man, you'll never have to go far for a cheeky glass of wine.
Choose from a huge selection of 103 chic guestrooms and 5 room styles at this funky hotel; whether you want to splash the cash on the Private Alex Suite or are happy with the Classy King Room, you're in for a treat regardless. Enjoy a wide range of amenities, including a super king-sized bed with a plush mattress and crisp white sheets, a work desk and a secluded seating area, and a contemporary ensuite bathroom with rainforest walk-in showers and complimentary toiletries.
If you can lure yourself away from your extravagant room, you'll discover plenty of high-end facilities for guests to enjoy. Boasting three dining facilities open at different times of the day, a fully functioning gym with the latest equipment, and a work hub with high-speed wifi, you can't find anything else like this in any of the other boutique properties on this list.
---
Wren Urban Nest
Location – St. Andrew's Lane
Best For – Sustainability lovers
Price Range – €€
The Wren Urban Nest is a unique hotel in Dublin known for its sustainability efforts, hidden away in a peaceful part of Dublin 2 beside Trinity College and Grafton Street, acting as the ideal base for anyone who wants to be in the heart of the city.
Nothing beats this small boutique hotel's ALT Restaurant, frequented by locals and guests; their speciality coffee is some of the best around. Try to get there bright and early to nab one of the coworking spaces and set up shop for the day. To give yourself a taste of home, put your feet up in the communal TV lounge area; if you have something you'd like to watch, you can ask the staff at reception to put it on for you.
Each of the Cosy Nest Guest Suites has an ample amount of space and pristine decor and contains RESPA Mattresses with cotton beddings, black-out blinds, ceramic coffee cups with local beans, a 43-inch plasma screen TV and complimentary bottles of Irish water.
---
The Mayson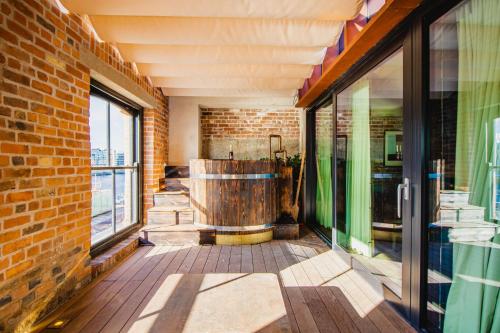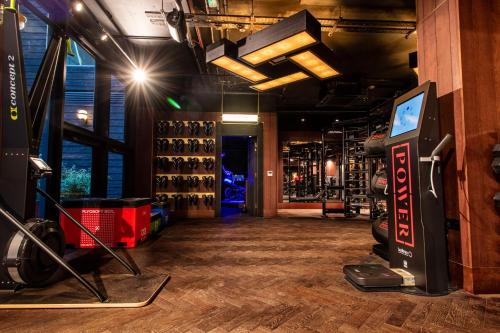 The Hendrick Smithfield
Location – Smithfield
Best For – Small groups, budget travellers
Price Range – €
The Hendrick Smithfield is a cheap boutique hotel in Dublin that sometimes has some special offers available. Located in the vibrant Smithfield area, just a short stroll from the Token Restaurant, Proper Order Coffee Co, and Delaney's Smithfield.
Admire a wide selection of art produced by a number of local artists in the reception, sip a cocktail or ten at the Hendrick Bar, or grab a sandwich at the onsite tuck shop; it's all to come at the Hendrick!
Featuring edgy designs inspired by the Smithfield locality, expansive double beds with king coil mattresses, GROHE Power & Soul showers, and clothes racks, the guestrooms at this unusual hotel in Dublin don't disappoint.
---
The Dean Hotel Dublin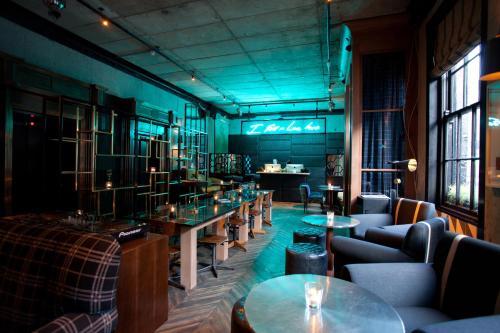 Moxy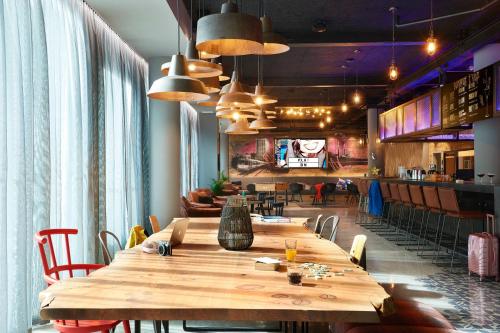 The Fleet
Location – Temple Bar
Price Range – €€
Best For – Architecture lovers
Another favourite Dublin boutique hotel of mine is the Fleet in the bustling district of Temple Bar. Anyone who wants to be right in the middle of all the action will love the Fleet, with the hugely popular Palace Bar nearby and hipster cafes on every corner like the Cocobrew.
Revamped in 2019, the Fleet has its own high-end cafe and bar where many of the guests like to consume an evening drink. Don't forget to nip down there early in the morning to indulge in one of the tastiest breakfasts you'll ever have. If you happen to arrive a bit before check-in time, the small luxury hotel has luggage storage areas to drop your bags while you explore the capital.
All of the rooms at the Fleet are styled in a luxurious fashion, with exquisite touches, moody colours, and modern furniture. If you have a special occasion coming up, the Elegance Double Room is definitely the one to book; from historical architecture to a toasty fireplace, you'll really get the royal treatment.
---
The Devlin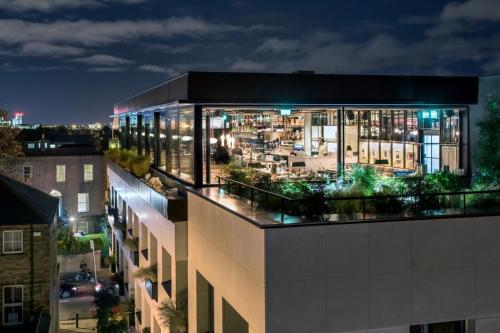 The Mont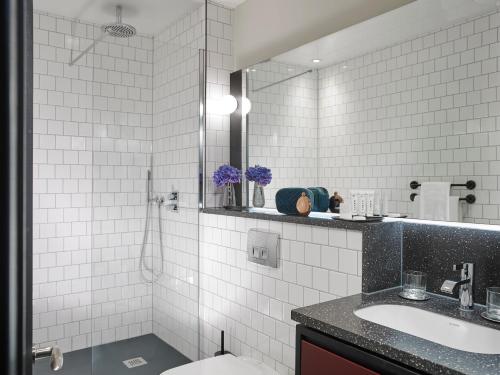 The Schoolhouse Hotel
Location – Ballsbridge
Best For – Two-person trip
Price Range – €€
Next up, we have a small hotel compared to the others on this list, the Schoolhouse Hotel in Ballsbridge, right on the canal, a location you won't be able to stop raving about.
Built on lush green grounds surrounded by tranquil gardens, the Schoolhouse Hotel ticks all the boxes with its outstanding Gastro Bar, allowing visitors to enjoy a couple of drinks on a private garden terrace. Elevate your stay with the Dome Dining Experience; sit down for a meal in a see-through pod that has its own LED-lit wine cooler. Who said the rubbish Irish weather has to ruin your plans?
The Schoolhouse Hotel has 31 rooms; all follow a Victorian style and have a splash of bold colours, new-age installations, and all the amenities to provide you with a snug stay, such as kingsized beds with microfiber sheets and oversized pillows, LCD widescreen TVs with pay-per-view channels and complimentary cookies.
---
Dublin One
Location – North Circular Road
Best For – Sightseeing
Price Range – €
Made for young souls and innovative brains, our last independent boutique hotel is Dublin One, set on no other than the North Circular Road. Those who are interested in doing some sightseeing on their trip will love this accommodation's location, the world-famous stadium Croke Park is less than a kilometre away, and the EPIC, the Irish Emigration Museum, is an eight-minute drive.
Start your holidays in Dublin with an appetizing meal at the Botanical Restaurant, superb for a tasty feast. Take your vacation up a notch with a bottomless brunch; nobody ever said no to unlimited glasses of bubbly, right?
The best part about Dublin One is the guestrooms, all of which have fashionable bathrooms, floor-to-ceiling windows, roll-in showers, and lowered beds with plush mattresses.
---
The Temple Bar Inn
Conclusion
And that's our list of luxury boutique hotels in Dublin city centre. We hope you've found something that suits your style and budget.
What are you waiting for? Start booking your 5-star hotel now!
---
Related Posts
---
Written By Adam
Where In Dublin is owned, controlled, and run by Adam Ryan. He's a one-man army who knows Dublin like the back of his hand and strives to help anybody planning on visiting Dublin enjoy themselves.
---
Connect With Us On Our Social Media Platforms